Buy SC Freiburg Tickets
SC Freiburg Football Tickets -
2023/2024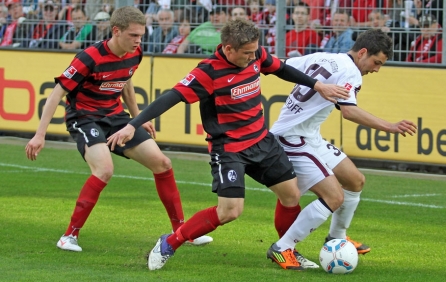 Looking for a place to buy SC Freiburg tickets for home and away matches? OnlineTicketExpress.com is the best source for SC Freiburg tickets. The veteran club was founded at 1904, and its greatest success so far was reaching the UEFA cup at 1995 and 2001. The team is based in the city of Freiburg, in the Breisgau district of Baden-W?rttemberg. Volker Finke, who was the club's manager between 1991 and 2007, was the longest-serving manager in the history of professional football in Germany. SC Freiburg home matched are being played at Badenova-Stadion, a stadium that holds up to 25,000 spectators. OnlineTicketExpress.com offers to buy SC Freiburg tickets within minutes. The site had been the trusty name in online tickets purchases since 1994, and within minutes it guarantees SC Freiburg tickets for home and away matches.
Enjoy the Unique Electrifying Atmosphere.
Watch Live the Thrilling Action.
SC Freiburg Tickets Available! Order Now.